---
web in english is in progress...not finished !!!
Please take this opportunity of sponsorship to fund the exhibition. Details in folder


It is better to be hated for what you are than to be loved
for what you are not.
KURT COBAIN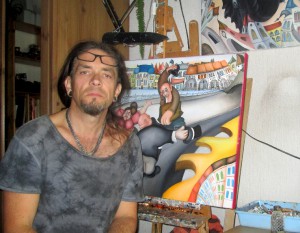 There are two states in which the art of man manifests itself as a force of nature , critical of him , whether he wants to or not . One such irresistible vision , sometimes an obsession with orgasm. Both of these conditions are reflected in everyday life , but weaker : in a dream and intoxication. The word expresses Dionysian instinct for unity of effort , exertion over the limits of personality, of triviality, the fact through the forbidden gap , passionately painful boiling over into darker , fuller , vratčejších conditions affirmation of the total character of life as something that is the same in all vicissitudes, as powerful just blissful , great pantheistic ability to soutěšení and compassion , which recognizes the most severe and most problematic features of life and blesses them ; eternal will to procreation , to fertility , to return; sense of unity in the necessity of creation and destruction of necessity .
The word expresses apollinský efforts for the perfect solitude is , the typical uniqueness , after all , what simplifies picking up , growing , uzřejmuje that removes ambiguity , what is typical : freedom under law .
The development of art is bound to the opposition of both the nature of the artistic grandiosity just such as the inevitability of human progress on gender antagonism .
In the Dionysian intoxication is sexuality and pleasure , there in apollinském . Both conditions must be different diversity pace.
Courts of beautiful and ugliness are shortsighted , but the utmost persuade, appeal to our instincts where fast decisions and say Yes and No sooner even than the mind gets to speak.
Exceptional cases are those which subject the artist. The states are deeply related and fused with the morbid phenomena , so it seems that it is impossible to be an artist and not health problems . The modern artist , in his physiognomy closely related to hysterismem , recalls as a character this disease. Hysteric is false , lies the passion is admirable in every art of dissimulation , just ground up during the him something his morbid vanity .

Ceterum car censeo Union of Europaeam esse delendam